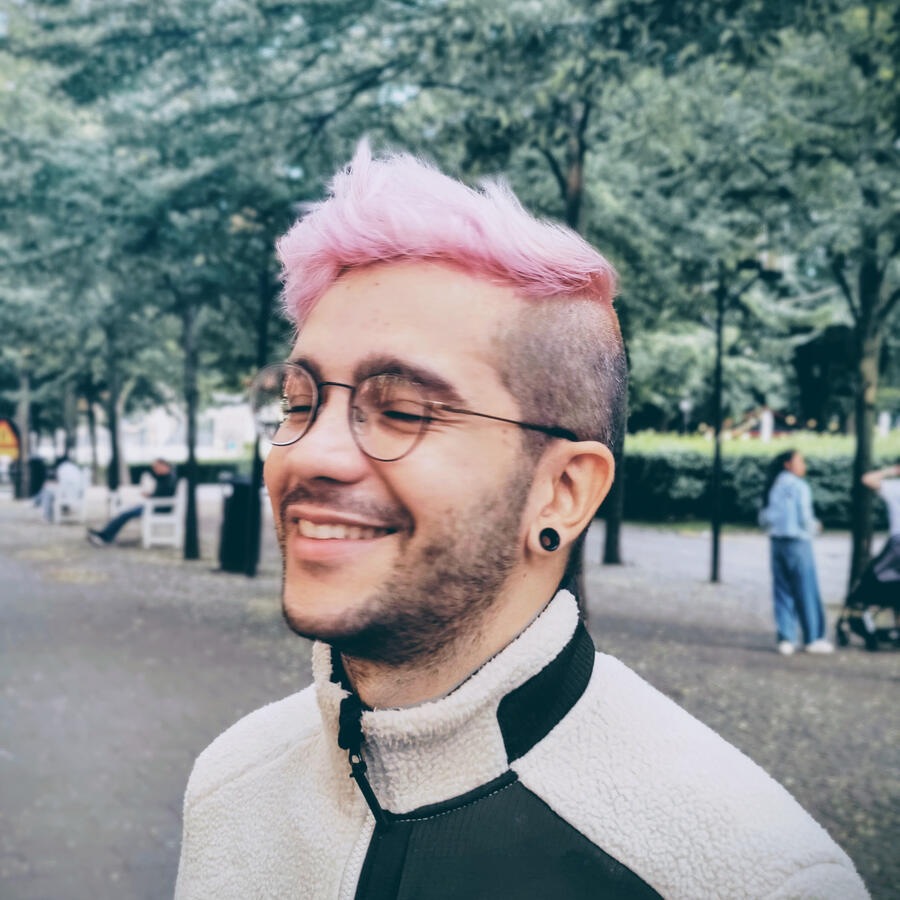 👋 Hi, I'm Guillermo Rodas.
Google Developer Expert in Web Technologies, Community Organizer, and Online Teacher.
I also write about programming on my blog and do oil painting in my free time.
Are you curious about 🎒 what does he use?
Full-stack JavaScript Engineer
🇸🇪 Currently living in Stockholm, Sweden.
Overall in his career, he has witnessed how JavaScript is changing the way we build software in the present and how it is influencing the future.He has worked mostly as a front-end developer on many UI/UX projects. However, don't hesitate in asking him about architecture, brainstorming, product design, Node.js and even about how to learn new things every day.He loves to connect with the tech community and that's why he has had the pleasure to give more than 20 talks in local communities like MedellínJS, MedellínPHP, MedellínJava, and MedellínCSS.He also enjoys mentoring. He has given a Full-Stack JavaScript Bootcamp at World Tech Makers, recorded four online courses for Platzi and is a mentor in Pioneras Developers and Data Science FEM.
---
His favorites CSS colors are tomato, rebeccapurple, and papayawhip.
🎒 What does Guillermo use?
This is almost a complete list of any configuration, software, and gear that I use on daily basis. If you notice that something is missed or you have more questions, please send me a direct message on Twitter.
Laptops
Macbook Pro 16-inch, 2019
Processor: 2,3 GHz 8-Core Intel Core i9

Memory: 32GB 2667 MHz DDR4

Graphics: AMD Radeon Pro 5500M 8GB, and Intel UHD Graphics

Disk: 1TB of flash storage
Razer Blade 15-inch, 2020
Processor: 2,3 GHz 8-Core Intel Core i7

Memory: 32GB 2933 MHz DDR4

Graphics: NVIDIA GeForce RTX 3080 8GB, and Intel UHD Graphics

Disk: 1TB of flash storage
I use a different MacBook Pro from my employer exclusive for work.
Editor
Visual Studio Code with One Dark Pro Vivid theme, with Material icons, JetBrains Mono font, these snippets, shorcuts, and the following recommended plugins:
Terminal
iTerm with Snazzy Colors, and Pure Prompt.
Desktop Apps
Essential desktop apps for my work and leisure. Some of them I have paid them twice in order to use them at work.
Chrome Extensions
I tried to use a different browser than Google Chrome but at this point is impossible.
Streaming Setup
I built the streaming setup in a way that was easy to move around. In theory, I could stream from a hotel room. but, I also have a fixed one.
Desktop Setup
Portable Setup
I also use my One Plus for the Twitch chat (portable Setup).
Desk Setup
Subscriptions
These are some of the apps and services that I pay because they make my life easier and fun. Remember that paying for software and services is an excellent way to support other developers.
1Password, Fantastical, HEY

Google One, iCloud

Netflix, HBO Max, Disney+, Apple TV+

Spotify, YouTube Premium, Epidemic Sound

Carrd

Zoom
I also pay for a couple of domains, servers, email accounts, meetups, apps, and content creator subscriptions.
Other Gear
More stuff that is convenient to have for different purposes.